MAC CE (MAC Control Element)
The purpose and function of NR MAC CE is almost same as LTE MAC CE.
When we say 'communication between UE and Network', we normally think about only signaling message (RRC or NAS message). When I say 'communication' in this case, it means 'control command exchange' between UE and network, not the data traffic.
In UMTS case, it is true that only RRC and NAS message functions as communication between UE and Network, but in LTE and NR a special type of communication is introduced working at MAC Layer. It implies that there are special MAC structure that carries special control information. These special MAC structure carrying the control information is called 'MAC CE', which means 'MAC Control Element'. Motivation for this kind of communication would be obvious. It would be much faster comparing to RRC layer or NAS layer communication.
This special MAC structure is implemented as a special bit string in LCID field of MAC Header (Refer to LTE MAC page for the details of MAC header).
There are several MAC CE in downlink MAC and also several MAC CE in uplink MAC. Following table from 38.213 shows the LCID types of MAC header. The parts marked in red rectangle is LCID representing various MAC CE. These are relatively small set of MAC CE defined in 38.321 Rel 15 - 6.2.1. You may see this gets longer as new release comes out as you have seen in LTE.
MAC CE List in 38.321 v15.1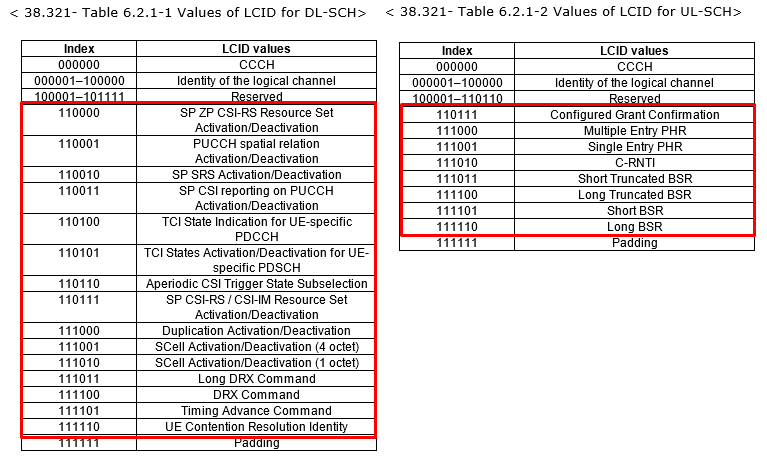 MAC CE List in 38.321 v15.3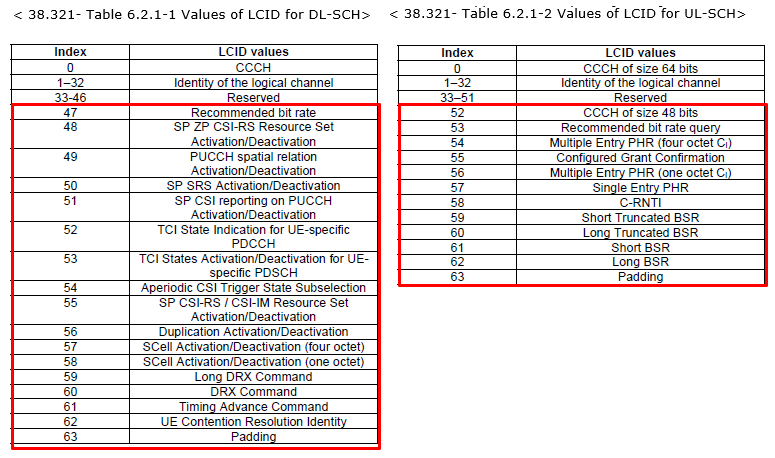 MAC CE List in 38.321 v16.4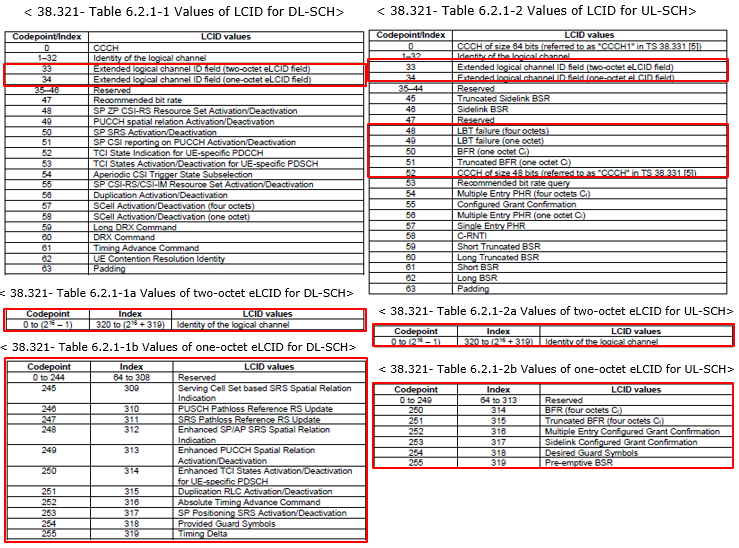 Followings are the list of the MAC CEs specified in 38.321 as of now. Since each of these items is a pretty big top, I will create a separate page for each of these items.
| | |
| --- | --- |
| MAC CE | Reference |
| | 38.321 - 6.1.3.1 |
| | 38.321 - 6.1.3.2 |
| | 38.321 - 6.1.3.3 |
| | 38.321 - 6.1.3.4 |
| DRX Command | 38.321 - 6.1.3.5 |
| Long DRX Command | 38.321 - 6.1.3.6 |
| Configured Grant Confirmation | 38.321 - 6.1.3.7 |
| Single Entry PHR | 38.321 - 6.1.3.8 |
| Multiple Entry PHR | 38.321 - 6.1.3.9 |
| SCell Activation/Deactivation | 38.321 - 6.1.3.10 |
| Duplication Activation/Deactivation | 38.321 - 6.1.3.11 |
| SP CSI-RS / CSI-IM Resource Set Activation/Deactivation MAC CE | 38.321 - 6.1.3.12 |
| Aperiodic CSI Trigger State Subselection MAC CE | 38.321 - 6.1.3.13 |
| TCI States Activation/Deactivation for UE-specific PDSCH MAC CE | 38.321 - 6.1.3.14 |
| | 38.321 - 6.1.3.15 |
| SP CSI reporting on PUCCH Activation/Deactivation MAC CE | 38.321 - 6.1.3.16 |
| SP SRS Activation/Deactivation MAC CE | 38.321 - 6.1.3.17 |
| PUCCH spatial relation Activation/Deactivation MAC CE | 38.321 - 6.1.3.18 |
| SP ZP CSI-RS Resource Set Activation/Deactivation MAC CE | 38.321 - 6.1.3.19 |
| Recommended bit rate MAC CE | 38.321 - 6.1.3.20 |
Reference
[1]